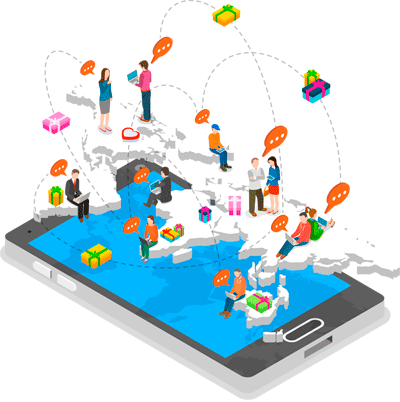 Social network for gifts: so they know what to give you. So you know what to give them.
Register or log in with Babelgift, start adding gifts to your list, and search friends to see their lists.
Also for wedding lists and collaborative gifts.
Quick Tutorial
1. Search for gifts
Alice searches for gifts on the page Add Gift
Our search engine will show you products from the biggest online shops, like Amazon, and other local shops. If you want products from other shops, choose any from the list and then specify the shop in the gift's comment.
2. Add to the list
Alice selects what she wants and adds it to the list using the button 'To my list'
When you add this gift to your list, it is still available for other users (any registered user, appart from in the case of private lists) to reserve and buy for you.
3. Reserve a gift
Peter looks at Alice's list, and reserves a gift to buy for her. Because the gift is reserved, other users can see it, but they cannot reserve it.
The owner of the list cannot see that the gift is reserved.
4. Commitments
Reserving a gift generates a commitment which Peter can then see on his page My Commitments
When a user reserves a gift, he/she is commiting to buy it within a month. If the time limit is reached and the gift is not marked as 'bought' on the page My Commitments, the commitment is broken, and the gift is no longer reserved, making it available to other users once again. The system will remind users of pending commitments by sending them an email a week before the commitment expiry date.
5. Buy the gift
Peter can now buy the gift for Alice using the blue button, or from another shop.
You can buy the gift in a physical shop or online. If the user doesn't specify where to buy it, it's possible that he/she wants the product from the shop they have chosen, and the blue button takes you directly to that product on the chosen online store.
Mark the gift as 'bought'
Peter then marks the gift as bought in his My Commitments page, so that the gift is no longer available in Alice's list and the commitment is removed. If the gift is not marked as 'bought', someone else could buy the same product for Alice.
The system does not know that you have bought the gift. If you buy a gift and don't click the green button to mark it as 'bought', the gift will become available in other users' lists again (as though you hadn't bought the gift).